Channelizers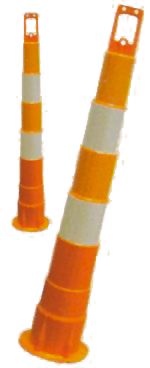 42" Channelizer
Re-routing traffic has never been safer than with our 42" Channelizer cones. Their trim-line design provides compact deliniation, which is ideal for detours, contstruction projects, concerts, sporting events, airports and many more applications.
These durable and highly visibile channelizers come with or without reflective sheeting. A tapered, fracture-resistant handle provides for added strength, easy pickup and mounting of lights, signs and other accessories. The vertical sheeting surface has a five-tier telescopic design, which promotes stacking. Anti-rotation ribs at the bottom make for a secure attachment to the base. A rugged, recycled rubber base provides stability and support with designed-in features to enhance skid resistance, stacking and handling.
Features:
Maximum visibility
Five-tier design
Multi-purpose handle
Efficient stacking
Easy transport
Secure base
Fracture-resistant handle
Locking base
Mount for lights, signs and vertical panels
Specifications: Material: LDPE (linear low density polyethylene)
Color: UV stabilized highway orange
Height: 42" (1.07m)
Weight: 3.0 lbs
Thickness: .080"
Diameter: Bottom section is 6", tapers to 4"