Full Size and Compact Sign Stands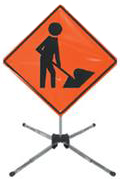 Our compact sign stands are high performance, heavy-duty stands utilizing adjustable fiberglass leaf-spring with a compact half-mast for all roll-up signs. Quick set-up and adjustable sign height, along with wind deflection, provide for best "target value" and proven "blowover" resistance.
Both models fold-up very compactly, are lightweight, and easy-to-use making them ideal for anyone who sets-up and moves signs regularly. Galvanized steel two-position telescoping legs with non-skid rubber leg tips adjust for narrow shoulders and uneven terrain.
Learn More
---
Dickie Roll Up Signs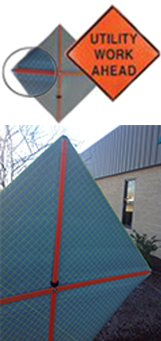 Roll-up Dicke signs are available in all grades of reflective or non-reflective materials. Vertical-batten permanently riveted to back of sign while horizontal-batten is center riveted to vertical-batten with three washers for smooth operation.
Roll-up Horizontal lock-pockets are riveted to back of sign pocketsign with (4) rivets; clear reinforcing on front.
Roll-up Dicke signs convenience with Rigid Sign performance. Dicke Roll-up Rigid Signs are manufactured with premium retro-reflective material with enhanced fixtures, extending product life.
Learn More
---
View HSS Current Screen PDF List for all Roll-Up signs