Vertical Panels VP-6500 Series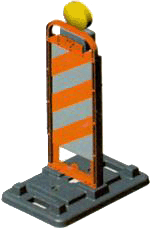 Features:
Easily replaced Vertical Panels and recessed in 48" tall U-frame to protect against wear and tear.
U-Frame uses special-formula polymers injection-molded for strength and durability.
U-Frame displays two Vertical Panels (1 front and 1 back) - striped areas are 12" x 24", 12" x 30" or 12" x 36".
Reflective 4" stripes are availabel in Engineer Grade (EG), High Intensity (HI) or Diamond Grade (DG).
U-Frame securely snaps in to Hi-Compression 100% recycled rubber U-Base.
U-Frame and U-Base readily separated on impact, minimizing damage to recessed Vertical Panels.
U-Frame has extra-large top handle for sure, one-handed gripping - with or without light attached.
U-Frame's stacking-tabs work in both directions, allowing "flat stacking" - with or without light attached.
Barricade warning lites attach using 1/2" bolt, or battery pack can be mounted at bottom of U-Frame.
Barricade lights are sold separately.